We are a small family farm run by Jason Pall and Sally Walker in Blacksburg, Virginia. We lease two plots from two separate families across from the Heritage Park on Glade Road.  Part of the farm is in a conservation easement with the New River Land Trust to assure it remains as open space. The land has historically been in pasture for decades and originally had a small home orchard up to the 1960's with apples and cherries. Below is an aerial photo taken in 1954 of Glade Road and old Brown Farm which is now the Heritage Park. Can you tell where Glade Road Growing is today?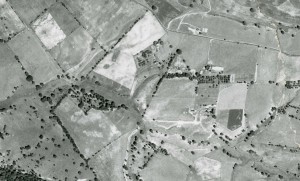 The portions we are cultivating now we started preparing in 2010. We appreciate feedback on how we're doing and what your thoughts are so don't be shy and introduce yourself to us when you see us at the market or on the farm.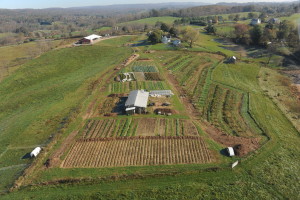 The Land!
The soil is a silt loam which is a perfect texture for growing. It has a near neutral pH thanks to carboniferous deposits which eventually became limestone from millions of years ago when this region was under a shallow tropical sea. We are building the soil organic matter by incorporating compost, town leaves, and cover crops. The landscape is rolling but there is just enough flat space for some sizable gardens. The majority of the rolls we use for our pastured chickens and to rotationally graze with beef cattle, pigs, and goats (all managed by other farmers) except for the steepest and wettest portions of the property.
Jason Pall and Sally Walker started and run Glade Road Growing after graduating from Virginia Tech and wanting to avoid jobs in the real world. Well, now this is our real world and we are happy to run our farm with the help of our amazing employees. We are pretty much an open book, so ask us anything.