What do I do with my duck eggs?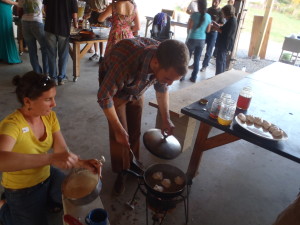 Don't be frightened… you can eat them!
Duck eggs can be used in just about all the ways you use chicken eggs. They are larger, but that doesn't stop us from substituting them one-for-one in normal egg recipes. If you want to be more precise, you can crack them and weigh them out to equivalent chicken-egg weights.
They have slightly less moisture than chicken eggs and so usually need slightly less cooking time to keep them from getting rubbery.
Need a tip cracking them? Duck eggs have a tough membrane beneath their shell (part of what helps them store better). To open up a duck egg, tap the side to crack the shell as you would a chicken egg. Then hold the egg over a bowl as you use your thumbs to break the membrane at the crack and split the two shell halves as you pull them apart.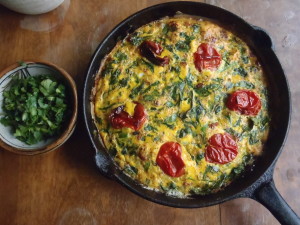 If you are allergic to chicken eggs, you may still be able to eat duck eggs. Likewise, you may be allergic to duck eggs and not to chicken eggs. Duck eggs tend to be more alkaline and chicken eggs more acidic.
Here are some of our favorite simple recipes to help you get started.
Shakshuka with feta (north African-style poached eggs)
Ingredients
3 tablespoons extra-virgin olive oil
1 large onion (thinly sliced)
1 large red pepper (seeded and thinly sliced)
3 garlic cloves (thinly sliced)
1 teaspoon ground cumin
1 teaspoon sweet paprika
1/8 teaspoon cayenne (or to taste)
3 1/2 cups canned whole plum tomatoes (with juices, coarsely chopped (about a 28 oz can))
3/4 teaspoons salt (more as needed)
1/4 teaspoon black pepper (more as needed)
1 1/4 cup feta cheese (crumbled (about 5 oz))
6 duck eggs
Optional
chopped cilantro (for garnish)
hot sauce (as desired)
Note
By Melissa Clark of the New York Times, this traditional baked egg dish is an easy, beautiful, satisfying and healthy entree for brunch or dinner.
Directions
| | |
| --- | --- |
| 1. | Heat oven to 375 degrees. |
| 2. | Heat oil in a large skillet over medium-low heat. Add onion and pepper. Cook gently until very soft, about 20 minutes. |
| 3. | Add garlic and cook until tender, 1 to 2 minutes; stir in cumin, paprika and cayenne, and cook 1 minute. |
| 4. | Pour in tomatoes and season with salt and pepper; simmer until tomatoes have thickened, about 10 minutes. |
| 5. | Stir in crumbled feta. |
| 6. | Gently crack eggs into skillet over tomatoes. Season with additional salt and pepper as desired. |
| 7. | Transfer skillet to oven and bake until eggs are just set, 7 to 10 minutes. Sprinkle with cilantro and serve with hot sauce. |
Duck egg frittata
Ingredients
6 duck eggs
2 tablespoons oil, butter, lard, or your choice of fat
2 cups farm fresh greens, chopped (chard, kale, spinach are all great)
1 onion or garlic clove (or more)
1/2 teaspoon salt
1/4 teaspoon pepper
Optional
2 tablespoons basil (chopped)
1 heirloom tomato (sliced)
Note
A quick and filling healthy meal that easily accepts vegetable substitutions or additions as the seasons change.
Directions
| | |
| --- | --- |
| 1. | Preheat oven to 400 deg. |
| 2. | Beat the duck eggs in a mixing bowl and add salt and pepper. |
| 3. | Heat the oil in an oven-proof skillet over medium heat and add the onion. |
| 4. | Stir around onion until tender then add your greens. |
| 5. | Cook greens just to wilting. |
| 6. | Pour duck eggs over greens in the skillet. |
| 7. | Top with tomato and basil as desired. |
| 8. | Bake for about 17 minutes, or when a knife come out clean when pierced in the center. |
Duck egg cake with rosemary
Ingredients
4 duck eggs
3/4 cups sugar
3 tablespoons olive oil
7 tablespoons duck fat or butter (melted)
2 tablespoons fresh rosemary, lemon verbena, sage or winter savory (minced)
1 1/2 cup pastry flour
1 tablespoon baking powder
healthy pinch of kosher salt
Note
This is a very easy and lovely cake by Hank Shaw.
Directions
| | |
| --- | --- |
| 1. | Preheat the oven to 325°F. Grease a 9-inch loaf pan with butter. |
| 2. | Crack the duck eggs into a large bowl, add the sugar, and beat with a whisk until well combined and slightly frothy. |
| 3. | Drizzle in the oil and duck fat while stirring the mixture. Once the fat is well incorporated into the mixture, sprinkle the rosemary on top. |
| 4. | In a second bowl, whisk together the flour, baking powder, and salt. Using the whisk, stir the flour into the egg-fat mixture until combined. |
| 5. | Pour the batter into the prepared pan and bake for 50 minutes. Stick a toothpick into the center of the cake, and if it comes out clean, the cake is ready. If not, bake for another 10 minutes. |
| 6. | Let the cake cool in the pan on a cooling rack for 5 minutes, then turn it out onto the rack. Slice and eat warm or at room temperature. |
Duck egg lemon curd
Enjoy on top of muffins or chocolate brownies or by itself like a pudding.
Ingredients
6 duck eggs (beaten)
1/2 cup butter (or coconut oil)
1/2 cup sugar (or honey)
grated rind of 2 lemons or limes (about 4 tablespoons)
juice of 3 lemons or limes (about 1/2 cup)
Note
Enjoy on top of muffins or chocolate brownies or by itself like a pudding.
Directions
| | |
| --- | --- |
| 1. | In top of double boiler, combine all ingredients and mix well. |
| 2. | Set over boiling water and cook, stirring constantly with a wooden spoon for 15-20 minutes or until mixture is thick and smooth. |
| 3. | If eggs start to chunk up and cook out, your double boiler is too hot so remove curd momentarily from heat, but continue to stir. |
| 4. | Cool and store in a jar in the refrigerator. Curd will thicken more once cooled. |
Steamed duck eggs
A tasty alternative to hard boiled eggs.
Note
A tasty alternative to hard boiled eggs.
Directions
| | |
| --- | --- |
| 1. | Put a steamer basket in a pot. |
| 2. | Add water up to bottom of steamer (it should only be a couple inches). |
| 3. | Boil water then add eggs to steamer and cover. |
| 4. | Steam eggs for 15 minutes if you like them less done in the center and up to 25 minutes if you like them more firmly cooked throughout. |
| 5. | Remove eggs from steamer and put in a bowl of ice water and then the refrigerator (either with or without the water) to chill. |
| 6. | Once the eggs are thoroughly chilled, peel off the shells. The longer you chill, the easier they are to peel! So if you have the option to chill them overnight, do so. |
| 7. | Can be eaten alone as a healthy snack, or with a sliced heirloom tomato and salt. The peeled eggs can also be chopped up and mixed with yogurt, mayo, or sour cream, celery, radish, garlic, or your other favorite crunchy vegetables for a delicious egg salad. |
Duck egg spatzens (ie, dumplings)
A quick and easy dumpling, especially when you are under the weather.
Ingredients
1 duck egg
1/2 teaspoon salt
1/4 cup water
2 tablespoons butter (softened)
3/4 cups flour
Optional
fresh cilantro or parsley (chopped)
Note
A quick and easy dumpling, especially when you are under the weather.
Directions
| | |
| --- | --- |
| 1. | Melt butter in bowl. |
| 2. | Add salt and flour. |
| 3. | Beat egg and add. |
| 4. | Add water. |
| 5. | Drop by teaspoons into simmering soup or stock. |
| 6. | Simmer for 10 minutes. |
| 7. | Ladle up and garnish with chopped cilantro or parsley. |
---