Yes, we have duck eggs! And now our ducks are fed a certified organic non-GMO feed!
Did you know that duck eggs…
Contain more protein and vitamins than chicken eggs (gram for gram)
Are larger, especially the beautiful golden yolk, compared to chicken eggs
Have a slightly richer flavor than chicken eggs
Puff up much more and add loft when baking (especially in gluten free baking that tends to be kind of flat)
A dozen eggs weighs over 2 lbs
And they taste amazing!
Once you go duck you never go back! If you have never tried duck eggs before, try some today. Our duck eggs are always available on our farm in the self-serve honesty fridge, as well as at other locations where we sell in Blacksburg.
Click here for some simple duck egg recipes.
$8/dozen and $4.25/ half dozen
Bulk deal! Get 10 dozen for $71.50 with our duck egg loyalty card. Duck egg loyalty card is good for 10 dozen duck eggs that you use at your pace throughout the season. Card reflects over 10% off retail duck egg price.
---
 Our ducks are raised year-round on the pastures surrounding our gardens. They are out foraging much more and in all weather compared to our chickens. Their foraging is supplemented with certified organic non-GMO feed from Reedy Fork Farm in Elon, North Carolina, and are never fed antibiotics. We love our ducks and are happy to provide them with a good life here.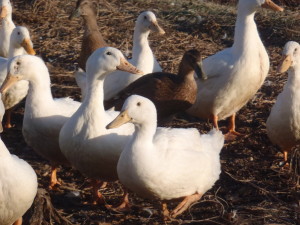 We double wash, sanitize, and candle all our duck eggs. Regardless, ducks like to lay their eggs in the grass and sometimes the shells get stained. Egg shells may vary in color from white, bluish, bone, or somewhat speckled. If you are not completely satisfied with your eggs, please let us know and we'll make it right!