Pasture-raised Freedom Ranger Chickens
 fed certified organic non-GMO feed!
2018 fresh chicken dates coming soon
---
 Pastured Organic-Fed Chicken Prices 
Whole chicken $5.75/lb (farm price); $5.95/lb (Blacksburg Farmers Market price)

Chicken breast- $15/lb

Chicken leg quarters- $7.50/lb

Chicken wings- $7.50/lb

Chicken livers- $6/lb

Chicken hearts- $6/lb




Chicken backs -$3/lb

Chicken feet- $2/lb
Bulk special! Whole chicken $5.25/lb when you buy 10+ chickens at a time on the farm.
 Whole chicken also available frozen at Eats Natural Foods.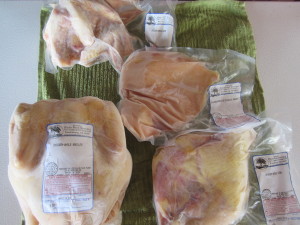 ---
 We are proud to offer fresh, local chicken raised on our pastures and supplemented with whole-grain certified organic non-GMO feed. You might be interested in trying one because…
 •Their feed is whole-grain certified organic non-GMO from Reedy Fork Farm in Elon, NC. We order bulk whole grains and grind the feed here so that the chickens are always getting the freshest feed possible.
•Chicks are fed fresh greens as part of their feed since they day they arrive as baby chicks.
•They are put onto pasture to forage by 3 weeks of age and remain there until processing.
•They are not fed or treated with antibiotics.
•Broilers are packaged in a BPA-free shrink bag that protects against freezer burn.
•Livers, hearts, heads and feet also available.
---
 Freedom Rangers are our favorite meat chicken so far. They have beautiful chunky drumsticks, a nice long breast, and great fat which keeps them from drying out when roasting. The chickens are excellent foragers which means they (and you) get added vitamins from eating a variety of pasture plants.
 Freedom Rangers are a slower-growing breed than what you would typically get from the grocery store and are known for their unique taste and texture. Our Freedom Ranger chicks are from a small hatchery in Pennsylvania called Freedom Ranger Hatchery, Inc. which imports their breeding stock from France.
Contact us if you have any questions. Photos and commentary on how we raise the chickens can be seen in our photo gallery and facebook page.