Tabula Rasa-the farm kitchen
T

abula Rasa on Glade is farm-to-table at its best. Our farm kitchen is located at Glade Road Growing, a small family-run farm in Blacksburg, Virginia. Our meals are thoughtfully crafted using what is available the farm and highlighting what's in season. Our plates are globally inspired and all made from scratch. Ingredients that cannot be sourced directly from our farm are purchased from regional farmers and mills. We almost exclusively use organic and naturally grown ingredients. Vegetarian options available.We are open:
Fridays 3 pm – 9 pm
Saturdays 12 pm- 9 pm
Mondays 5 pm – 9 pm

MENU

All items farm-made right here and served labeled and packaged.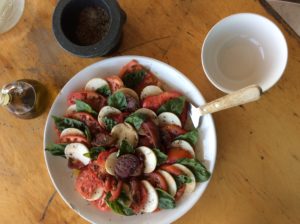 Farm kitchen update!
We are about to start construction improvements to our big red farm building and upgrades to our kitchen. We will be able to do hot food and pizza again once all the construction in complete, likely in the fall.
Meanwhile we are offering deli-style foods prepared on-site from products from our farm. Dave and Aaron, our masterminds of the farm kitchen, continue to brainstorm and develop delicious foods with our farm's twist that you can eat when you come to Rising Silo, our farm stand or our stall at the Blacksburg Farmers Market. Our menu can be found here and changes with what is coming in seasonally on our farm.