Tabula Rasa-the farm kitchen
T

abula Rasa on Glade is farm-to-table at its best. Our farm kitchen is located at Glade Road Growing, a small family-run farm in Blacksburg, Virginia. Our meals are thoughtfully crafted using what is available the farm and highlighting what's in season. Our plates are globally inspired and all made from scratch. Ingredients that cannot be sourced directly from our farm are purchased from regional farmers and mills. We almost exclusively use organic and naturally grown ingredients. Vegetarian options available.We are open:
Fridays 3 pm – 9 pm
Saturdays 12 pm- 9 pm
Mondays 5 pm – 9 pm

MENU

All items farm-made right here and served labeled and packaged.

Plates and forks available for you to enjoy on the patio or take to go.

ZUCCHINI PANINI…$10

stone-milled wheat & rye flour focaccia w/fresh rosemary, stuffed with roast summer squash, basil pesto, and aged tome from Meadowcreek Dairy

RED PEPPER HUMMUS w/GOAT FETA…$8

charred sweet peppers and stewed chickpeas blended with tahini, olive oil, garlic and mint, accompanied by dry-salted fresh curds from Curtin's Dairy

 RADISH-CARROT & RYE BERRY SALAD…$8

roasted nantes and cherry belles tossed with steamed north carolina rye and dressed with fresh herbs, and our mustard vinaigrette

TOMATO GAZPACHO…$8

dead-ripe heirlooms, blended with roasted peppers and onions and garnished with a medley of fresh herbs

FIRE-ROASTED BEETS…$6

red and golden beets dressed with fresh-pressed Reedy Fork sunflower oil

NEOPOLITAN PIZZA…$5

onions, peppers, fresh herbs and tome from Meadowcreek Dairy

FRESH-CUT GREEN SALAD…$4

a blend of lettuces and endives served with our farm vinaigrette

STEAMED DUCK EGG…$2

hard-cooked and rested in Gnomestead Hollow pickle brine

GARLIC-ROSEMARY FOCCACIA

or SOURDOUGH PITA…$2

Special Additional Plate For  Friday, Sept. 29

 We now accept credit and debit cards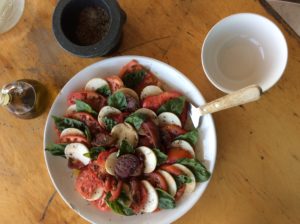 Farm kitchen update!
We are about to start construction improvements to our big red farm building and upgrades to our kitchen. We will be able to do hot food and pizza again once all the construction in complete, likely in the fall.
Meanwhile we are offering deli-style foods prepared on-site from products from our farm. Dave and Aaron, our masterminds of the farm kitchen, continue to brainstorm and develop delicious foods with our farm's twist that you can eat when you come to Rising Silo, our farm stand or our stall at the Blacksburg Farmers Market. Our menu can be found here and changes with what is coming in seasonally on our farm.