Our Place
---
Professor Barkslip's Fruit School 
March 5th and 6th, 2016
We are excited to have Professor Barkslip coming to teach his fruit school here in Blacksburg and share what he has learned in the last 30 years growing fruit without chemicals. This will be his 10th year of fruit school offering an experiential learning forum on how to have more wholesome fruit in their lives.  You can't learn fruit from a computer screen, folks. Come share in the hands-on enthusiasm and learn more than just pesticide-based cookbook steps to having a thriving orchard.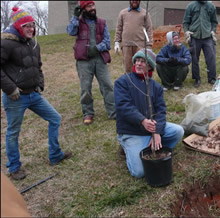 Join us with Bill Whipple (aka Professor Barkslip) through this holistic orchard approach to fruit happiness without chemicals, founded on thoughtful site analysis, choosing appropriate species, and open-eyed management.
Applicable for home orchards and small farms and the rest of the world!
Saturday, March 5th, 9 am- 5 pm– Orchard site analysis and species selection; planting, soil and understory management; pruning for new plantings; pruning and mature tree care.
Sunday, March 6th, 9 am- 5 pm– Plant propagation with seed, layer, and rooting; grafting and cloning around (hands-on with a tree to take home); advanced top working.
Homemade farm lunch provided both days.
 $180 full weekend; $100 single day
Please arrive at least 15 minutes early to register for your first class Classes start promptly at 9:00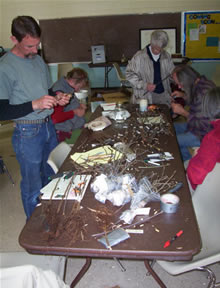 About the instructor: Bill Whipple has been growing pears in southeast West Virginia for 28 years on his Talking Hill Farm without chemicals and markets them regionally. He has added over 1000 trees of mixed species in the last 10 years and has begun a fruit and nut breeding program. His model is a testimony to the fact that we can grow a wide diversity of chemical-free fruit in our region. You can learn more about his work at his website, www.barkslip.com.
Class Details
March 5th Saturday 9:00-12:00
Orchard site analysis and species selection- Get off on the left foot with a different aproach to observation, site planning, taking a good look at native and other hardy plants, and how to incorporate all this into an orchard design that will work best for you. This will be the foundation class for the series. Plus Planting, soil, and understory management: Starting from the ground up, we'll cover good soil health as a foundation to create healthy plants and food.
Afternoon 1:00-5:00
Pruning I- "Can you make the cut?"; new plantings to adolescent trees
Mostly hands on pruning of younger trees so bring your pruners! We will cover establishing a young tree from planting to fruit bearing.
Pruning II- mature tree care
Follow up pruning of bearing trees and rejuvenation of mature trees.
Sunday March 6th 9:00- 12:00
Propagation of plants with seed, layer, rooting
More on helping plants do what they want to do- propagate. Learning these skills are a key to affordable starting, growing and experimenting with plants. Heck, even learn to GMO your own plants and breed your needs! Every seed is a new variety that has never existed previously. We will discuss methods pioneered 140 years ago by plant pioneer Luther Burbank to develop new useful varieties of plants quickly and efficiently to better adapt to our sites, needs, and markets.
1:00- 5:00
Grafting and Cloning around
Bench grafting the whip and tongue graft is foundational and from there you can springboard into a vast world. In this class you will build and take home a tree of your own making. The more comfortable you are with this technique ahead of time, the more quickly you will progress through the many advanced techniques in the succeeding class.
Advanced Top work The "vast world" expands quickly, as well as, its advantages for you by learning to graft trees in "situ" (where they are already growing). We will cover bud grafting, as well as some of the more demanding grafts needed for hard to graft species like nuts. You will learn to the many benefits to top working, identify graftable trees growing in the woods or weeds, and choose the appropriate graft.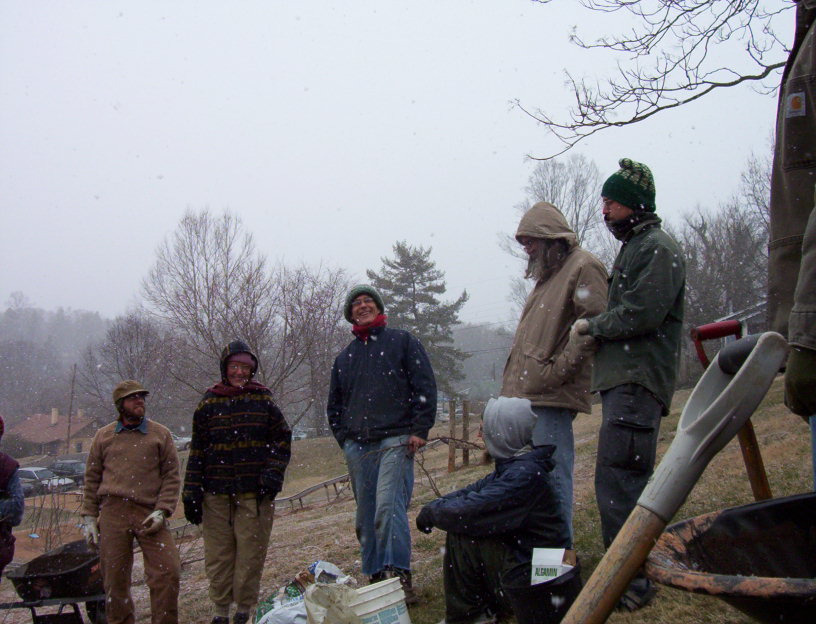 Are you a farmer travelling from afar to attend the full weekend of class? If so, then we likely have floor space for you to crash. Please indicate so on the questionnaire at end of the registration form.
---
Glade Road Growing  is a small farm on leased land across the street from the Heritage Park which produces and direct markets vegetables, chicken, duck eggs and more to the good people local to Blacksburg, Virginia. This is accomplished with the assistance of our energetic employees, along with the helpful hands of several neighbors and community members who just like to get dirty on the farm. We feel strongly that the resources to produce healthy food are right here around us and we enjoy helping other aspiring farmers in the area get started.
Our farming methods are based on building and maintaining soil health, biodiversity, and community involvement (read: fun). We do our best to serve as caretakers of the land by using organic matter-based mulches and cover crops. Although our intensive cultivation area only occupies about four acres, we also manage the remaining 44 acres of the property, part in rotational pasture and part in a managed riparian area for a tributary of Tom's Creek. Come by and introduce yourself- we'd love to meet you.